The Molí Blanc Hotel is a cozy, elegant and comfortable place, with a service and personalized attention and close where to celebrate, with your guests, the wedding to make it unforgettable. It is then the ideal space to differentiate your great day, making it totally special and in short, the perfect day.
We specialize in intimate weddings, small weddings and very familiar, from 10 to 90 guests. We have great professionals to organize weddings and provide you with all the necessary tools, starting with a valid civil ceremony, banquet, party and accommodation, with exclusivity of the whole estate. All designed to favor the best possible environment.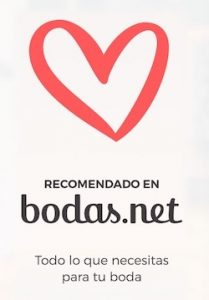 We have precense in Bodas.net, the nowadays most influential wedding website! Click the link and see all the comments that have been written about Molí Blanc Hotel. The different spaces, both indoor and outdoor, all in exclusivity, makes your wedding unique and different. We customize your great day.
We offer a very specialized kitchen. Combining elements of Mediterranean cuisine, modern and quality. Our chef, with the entire team of professionals, will translate all your gastronomic desires into delicious dishes.